Bikes are common means of transportation for most families; many of us grew up seeing them around. And they are still very much around today.
They are the handy tool for running errands, going to work or moving around the countryside. Today in most cities, bikes are regular features of our transportation system.
But one thing that should concern most parents is the use of bike trailers for transporting babies.
What Are Bike Trailers?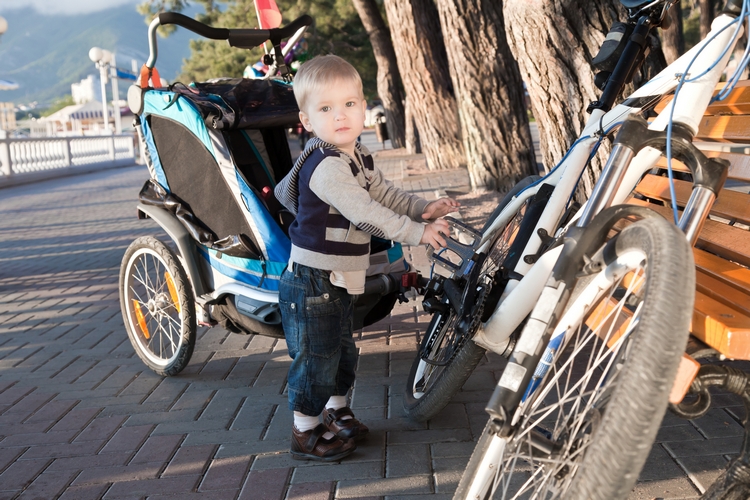 Bike trailers are the little sidecars attached to a bike as extra cabin to carry babies or move luggage. Yes, most bike trailers are used in carrying children with you when you go out with your bike.
The trailer is attached to your bike as you ride along. Most people find it convenient to ride with their kids behind in a trailer rather than use traditional bike carrier.
How Do Bike Trailers Work?
Bike trailers are designed to securely attach to ride along with a bicycle. They come in various designs from different manufacturers for the delight of traveling with your baby usually from 12 months old up to 6 years old.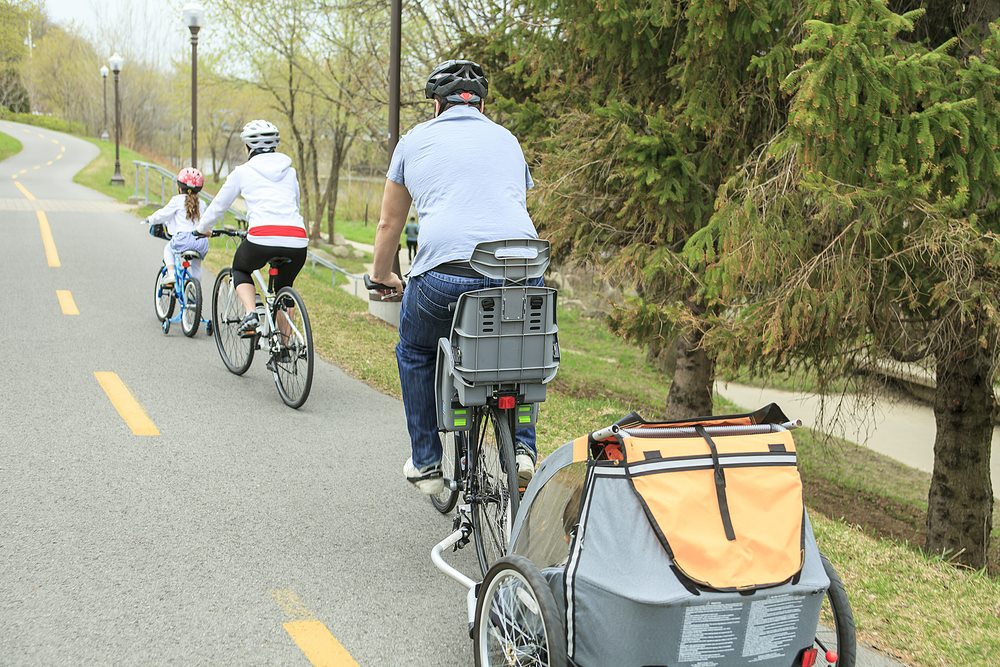 Bike trailers are purposely built as lightweight sidecars for fun riding. It is designed in a way that a child can sit comfortably in the seat and securely strapped to prevent the traveler falling off.
Some trailers' cabin has enough room to accommodate a baby and their items like diapers, food, and other effects.
The trailers are also used for other purposes apart from carrying baby travelers. Some people find it helpful for moving their luggage. Some farmers use it for moving farming equipment and tools.
They also come handy in conveying farm harvest in harvest season. It is as well useful for handymen in moving their tools and work materials to the site.
Bike trailers serve multi-purpose chores of helping people to move things whenever they need it.
What about Safety?
The need for safety is becoming a thing of concern for people who care about the occupants of the bike trailers. Although bike riding has been safely practiced for a long time, most cities even have a pathway designed specifically for bikes to provide additional safety assurance for bikers.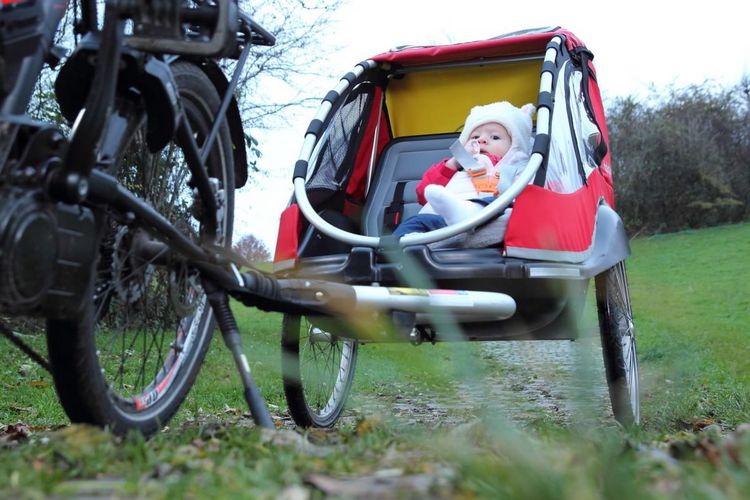 And because most people have at one time or the other been bikers, they understand the need to keep cyclists safe on the road. But when it comes to attaching additional carriage to the bike, how safe is it?
Opinion differs regarding the safety of bike trailers. Some people are worried the trailers' low height profile might make them hidden from motorists' views to prevent an accident.
But others are of the opinion that bikers use only road trails designed for bikes or display an orange safety flag high enough up to 7 feet high for motorists to see to prevent an accident.
For those riding on rough, bumpy terrains where the trailer can throw out its occupants, how safe can this be for a child?
Going by the design of most trailers, they are low, and the cabin comes with safety zipper that covers the occupant.
Also, the child is strapped to the seat guaranteeing additional safety measure to keep occupant secured all through the ride.
But by and large, common sense for riders top what most people agreed is the best safety measure to apply. However, there has been a high level of safety in the use of bike trailers to date.
The hitch mechanism employed in trailers allows you to attach them to virtually any bike. Due to the stable weight with a lower center of gravity, these trailers offer better stability overall.
As compared to a bike seat, the trailer offers far better protection should you fall over. Furthermore, they also provide protection from environmental elements such as cold, sun, rain, etc. so you can travel in practically any weather condition.
You can also increase its comfortability by adding pillows and extra padding.
Safer options
If you are still concerned about safety, take a look at the following features that make them a better and safer option:
Ball and Socket Joint – Rollover Hitch
If your bike falls overs due to some unfortunate incident, the trailer will stay upright due to the ball and socket joint feature. This is an important safety feature because it could keep your child safe from getting injured in an accident.
The rollover hitch is critical even if you are an experienced rider. It could prove useful even when you are not riding the bike. The rollover hitch is beneficial in situations where your bike could topple over.
5-Point Harness
Most bike trailers are equipped with a 5-point harness that can be used to strap your child into the trailer. This feature improves the safety of your child. If you want to fit two kids into your bike trailer, make certain that it comes with two 5-point harnesses.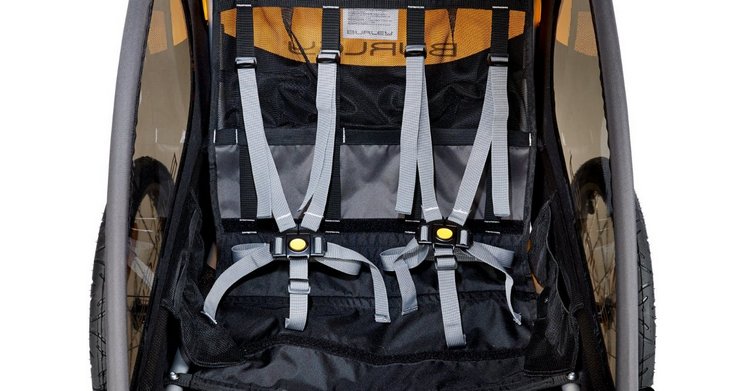 Roll Bar
A roll bar is an excellent safety feature which protects the sides of the trailer from collapsing inwards in the case of an accident where the trailer rolls over. This gives durability and structure to the bike trailer to make it safer for your child inside.
Wide Wheel Base
Some bicycle trailers feature a wide wheel base which prevents rollover accidents from ever happening. However, a bike trailer having wider wheel base is itself quite wider, which would limit your chances of parking the bike at all places.
Reflective Material
Most bike trailers are constructed of reflective materials. This feature helps motorists on the road to have better visibility. As trailers ride low to the ground, it's essential to do whatever you can to alert the drivers of trailer's presence, particularly the ones driving trucks and high SUVs.
Brightly Colored Flag
Some bike trailers come equipped with the colored flag. You can also get a bright flag separately. As mentioned before, trailers are lower to the ground which makes them almost invisible to truck and SUVs drivers.
That's why a flag is needed to alert them to the fact that there is a trailer riding behind you.
In conclusion, bike trailers are not only safe but also more comfortable as compared to bike seats