Cycling is healthy and a great activity to do. It'll help you look and feel your best as you get fitter and healthier. It's also a great way to see some impressive sights. However, having little kids has, in the past, made cycling impossible.
Toddlers can't cycle themselves, and having a seat on the back of your cycle is sometimes ok if you've got one child, but there's no way you could have two seats on the back of your bike.
However, there's a product that you can buy that'll help you deal with this.
InSTEP Quick N EZ Double Bicycle Trailer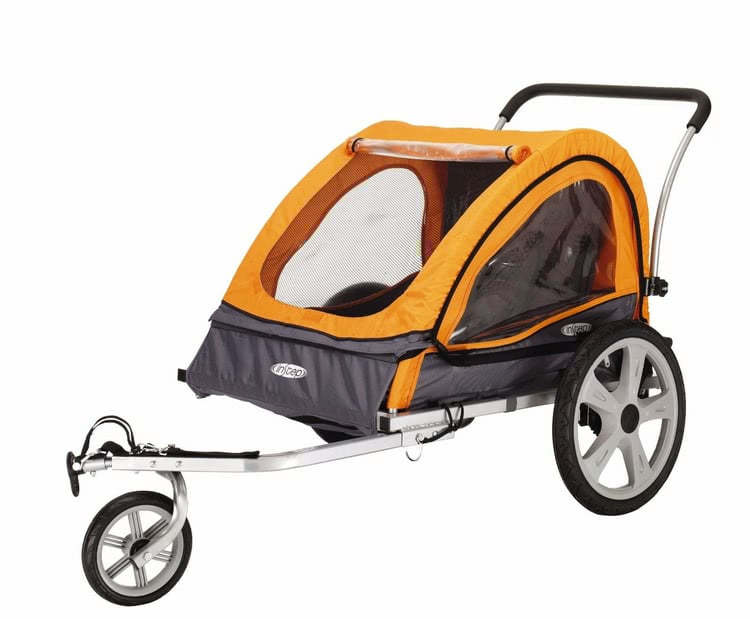 FEATURES
16" pneumatic tires with molded rims
Folding frame design with quick release wheels
Universal bicycle coupler attaches to most bicycles
Includes stroller kit with front wheel
2-in-1 canopy includes a bug screen and weather shield
5-point safety harness and shoulder pads
Includes parking brake and handlebar
Supports 80lbs total weight or 40lbs per child
The weight is 27lbs, and it comes with a one year warranty.
The InSTEP Quick N EZ Double Bicycle Trailer does exactly what it claims. It is an apt bike trailer and stroller rolled into one. An otherwise nifty design which spreads out to be a 33-pound trailer capable of bearing eighty pounds of weight, the InSTEP Bicycle trailer is apt for an infant, two infants or even a four-year-old.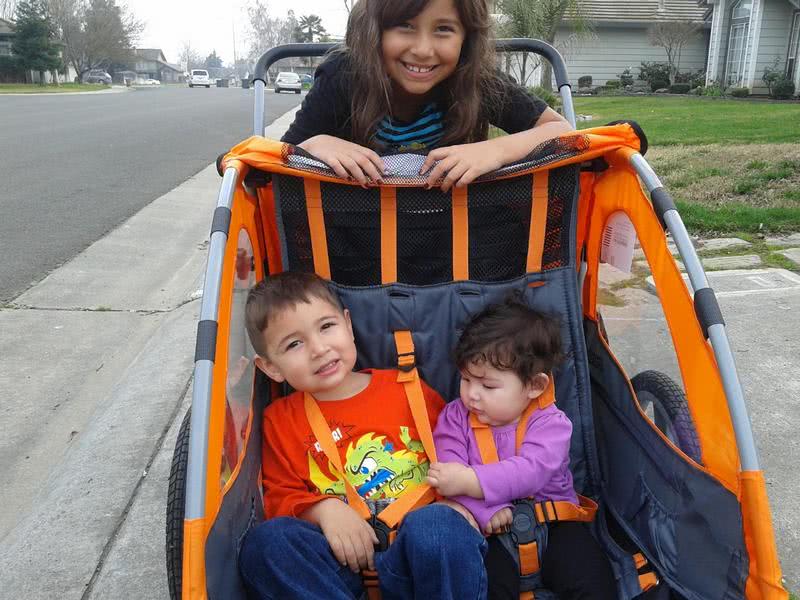 Available in orange and gray, the bike trailer looks pleasant. It is not an out of the world design but looks cool and serves the purpose. You wouldn't have to worry about dragging the trailer or pushing the stroller. There are people who have expressed how comfortable the stroller is even if one runs with it. Biking is certainly easy with the trailer swiftly and aptly tagging along.
Let us now explore what the InSTEP Quick N EZ Double Bicycle delivers and where it falls short.
The bicycle trailer comes with the stroller kit, it has a nice simple setup, it can fold up to make storage simpler and less demanding for space, there is a two in one canopy with weather shield and bug screen, both of which are very helpful and necessary features.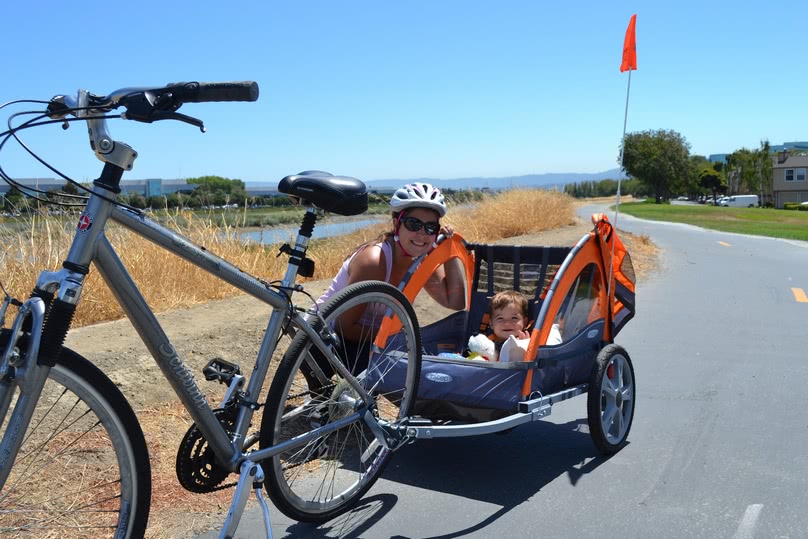 There are 16-inch pneumatic tires which provide a comfy ride when inflated properly and the molded rims tick the checkboxes of design and function.
The trailer works with every bicycle you see on the streets, and yours is going to be compatible unless you have one customized for space travel. The stroller has a swiveling front wheel, adjustable handle bar and the interior is spacious enough for even the larger and taller kids. The legroom, headroom and shoulder room are more than sufficient.
The ease with which you can hook the trailer with your cycle or bike, the relatively light weight and the comfortable ride would certainly impress any parent and also thrill the little ones. The trailer and stroller would be very comfortable on all bike lanes and cycle trails.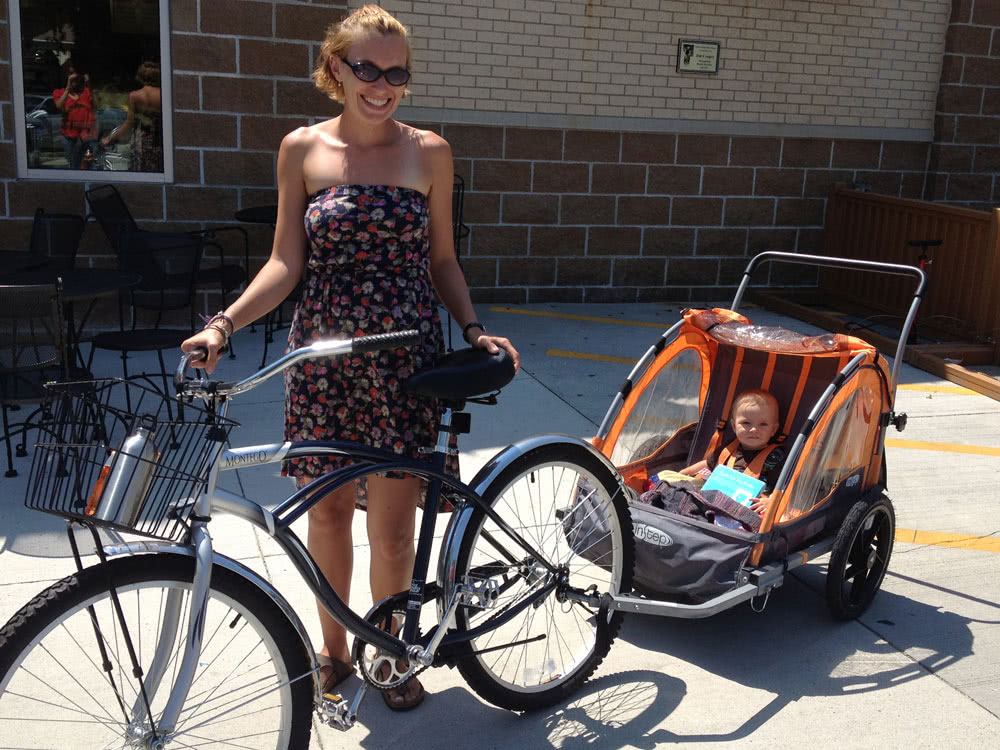 The stroller works very well in parks and relatively uneven surfaces. The trailer may not be ideal in uneven terrain. Although parents wouldn't embark on uneven terrains with kids in a trailer attached to the bike, still it begs a mention.
When you get the kit delivered at your doorstep, you may think there's enough air in the tire, but it would only be good for a short stroll. Don't expect yourself to hit the biking trails immediately.
Unless you have a wide doorway, you may have to take your kids out and turn the trailer/stroller sideways or fold it up before you bring it in your home.
InSTEP Take 2 Double Bicycle Trailer Review 2018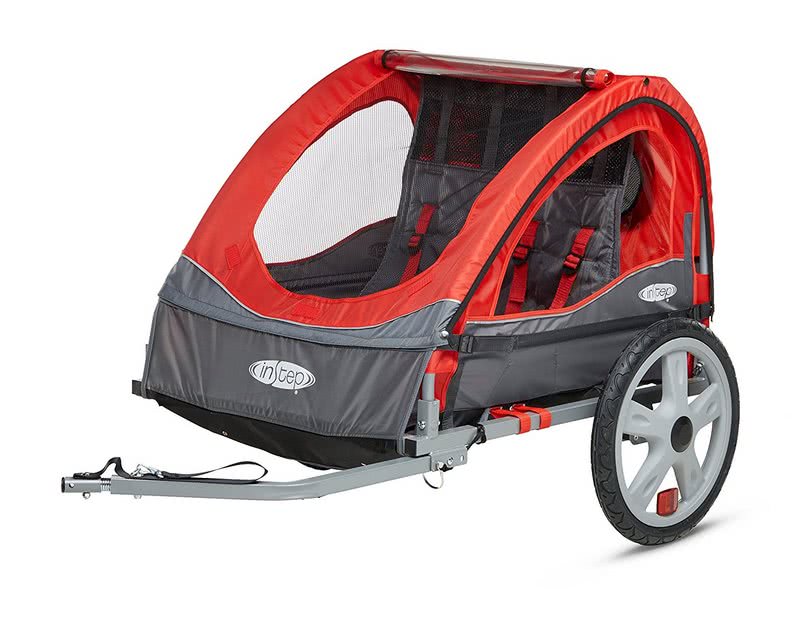 FEATURES
It has 16-inch wheels which flow effortlessly over paved roads.
It folds into compact storage mode easily.
It comes complete with a universal coupler.
It includes a weather shield and bug shield to protect your children.
Rugged steel frame.
Supports 80lbs total weight or 40lbs per child
Folded Dimensions: 31.5 x 30 x 16 inches
Assembled Dimensions: 31.5 x 30 x 30.5 inches
The weight is 27lbs, and it comes with a one year warranty.
The InStep Take 2 Double Bicycle Trailer has a range of features – chief amongst them is its adjustability: you can either sit your one child in the middle of the trailer or if you have two children, they can sit side by side. The Take 2 Trailer also comes complete with a coupler, so you can attach it to any bicycle you already own.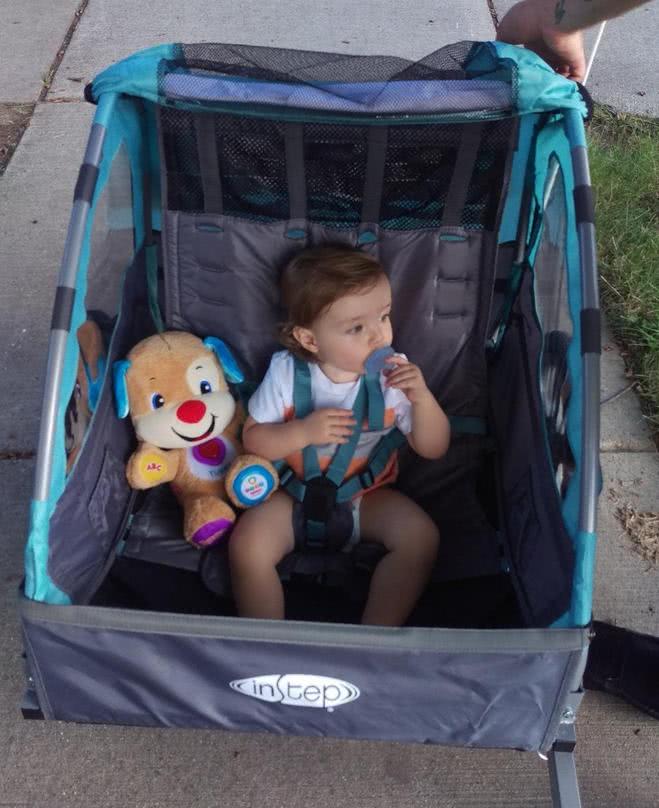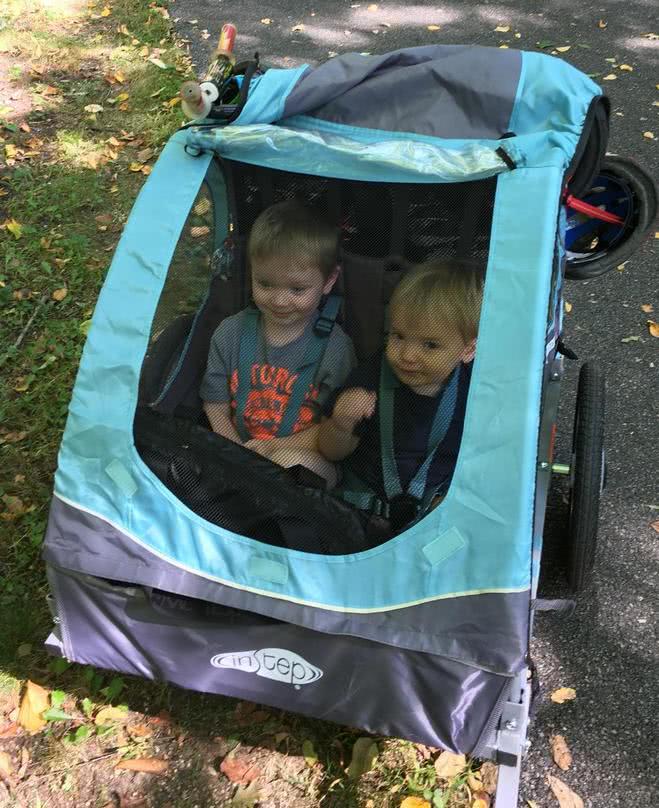 This is an affordable bike trailer that will assist every mom out there hit the road without worrying about how she will be moving around with her kids. This bike trailer is made comfortable through the provision of a 16-inch wheel modified with rims to provide a smooth ride for children.
The comfort of children is achieved by ensuring that the trailer has a safety harness that is 5 pointed and can be used to carry two children of about 40 pounds each or less. In our tests, this trailer was carrying two children of 50 pounds each, without any problems.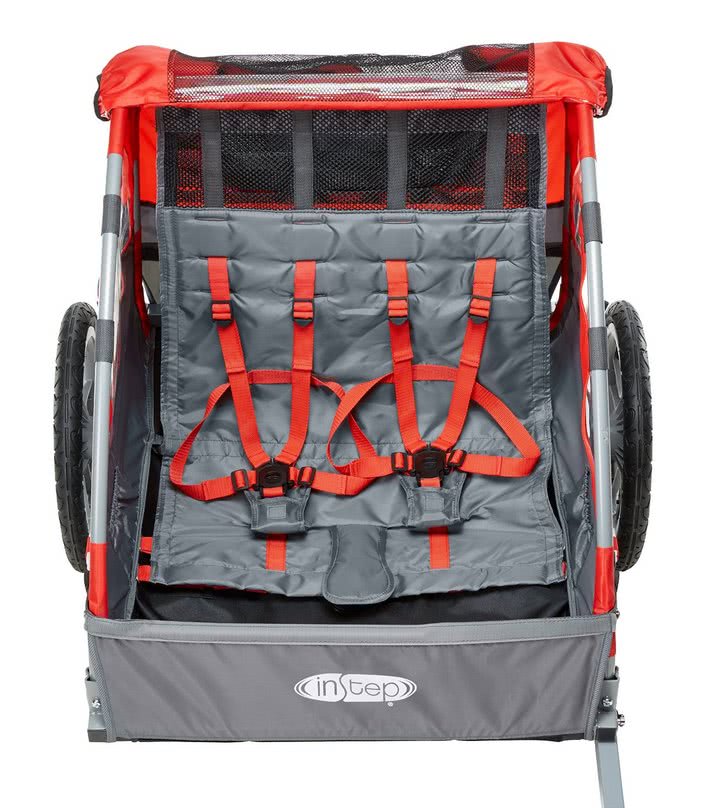 Children's welfare and comfort are the most important factors to consider and hence the trailer has a canopy that is weather shielded and a bug screen that helps keep the children protected. On purchase of this trailer, bicycle stroller kits are attached to it and are not sold as a whole package; it is sold separately from the trailer.
The wheels are not designed like the other trailer, but they are made to move easily with a single push release lever that is on the frame. The compatibility of the instep is of the best quality since the frame folds up like a box with its sides folding inwards, though during its folding it is advisable to remove the cover and with this it is considered the best compared to the rest when it comes to compatibility.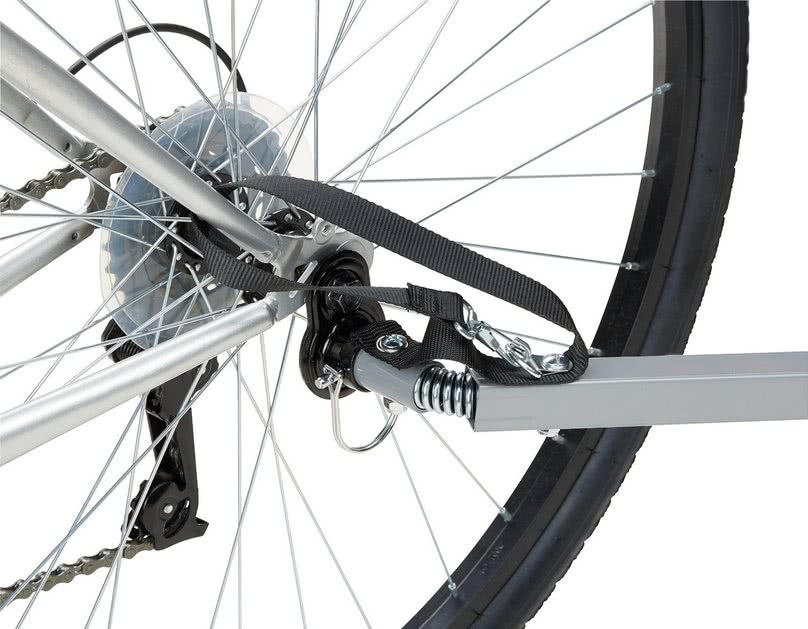 Despite the inStep Take 2 meeting the safety standards just like other trailers, it has some disadvantages like not putting up to the same level as the others when it comes to quality control. The overall built is not up to standards and the frame is built using a square tubing and the welds within do not meet the expected hygiene.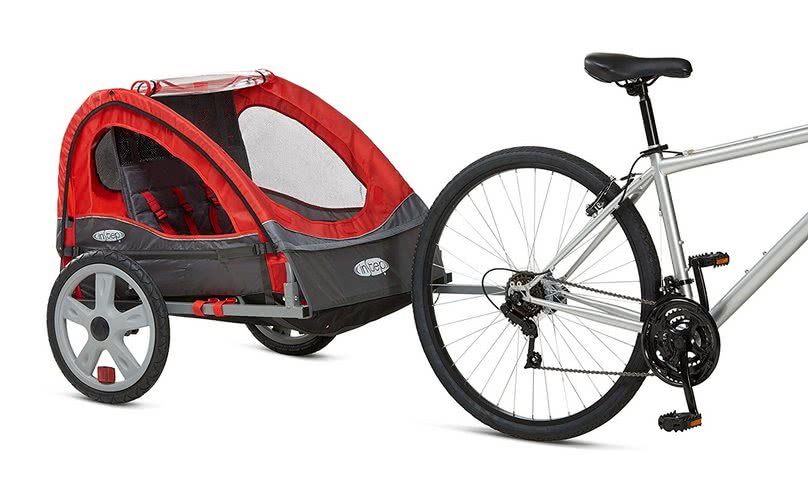 The substantiality of the cover is not comforting and it can create a total disaster when the weather condition gets wet when you have no place to shelter. This exposes the kids to a lot of risks and they can fall sick. Hence it is not a better option comparing it to the Rocket II or Burley and the child is not protected as it should be the case.
Apart from poorly protecting the child, the Instep Take 2 is not considered as one of the best in towing. The structure is not weather-friendly, the instep catches a lot of wind since its cover is not tightly stretched over the frame. When the trailer is subjected to high speed, the cover tends to make a lot of noise; the intermittent creaking caused on the tow bar while towing can be quite irritating though they never cause any mechanical damage or complication to the tow.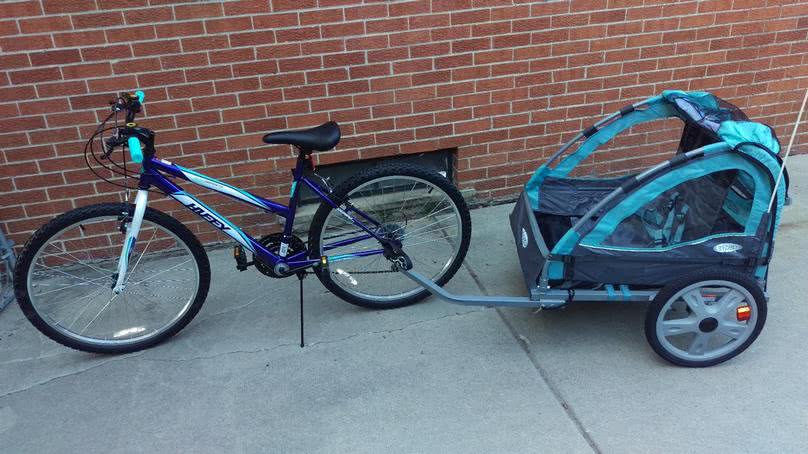 There are some pros and cons to the InStep Take 2 Double Bicycle Trailer, and in the interests of providing a fair and honest review, we've included both so that you can come to a considered decision.
The first pro is that the trailer is incredibly well balanced. We've tested it out, and the trailer – while designed for two children – is fine with either two or a single child. This is particularly useful if you have a single child but are planning or expecting another (though we wouldn't advise heavily pregnant mothers to cycle with a child in tow!)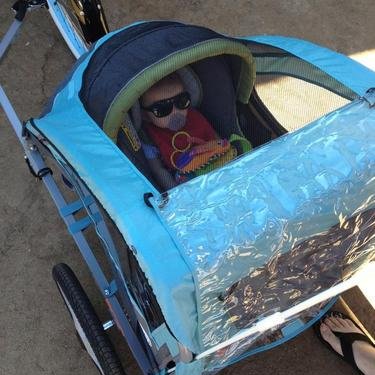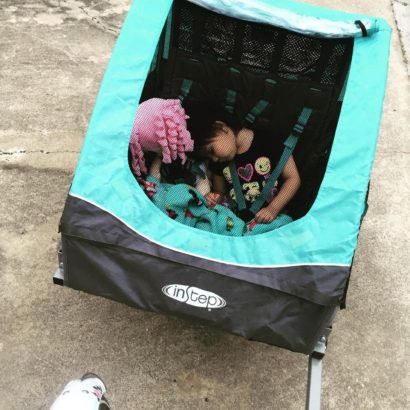 The second is it's durability: it has a steel frame and is well constructed. Now, in saying that, it's not a tank, and it probably won't travel a million miles, but for the price, it is well constructed and you won't have to worry about your child's safety due to the trailer falling apart. Peace of mind is worth more than any monetary sum, and this trailer will not let you down.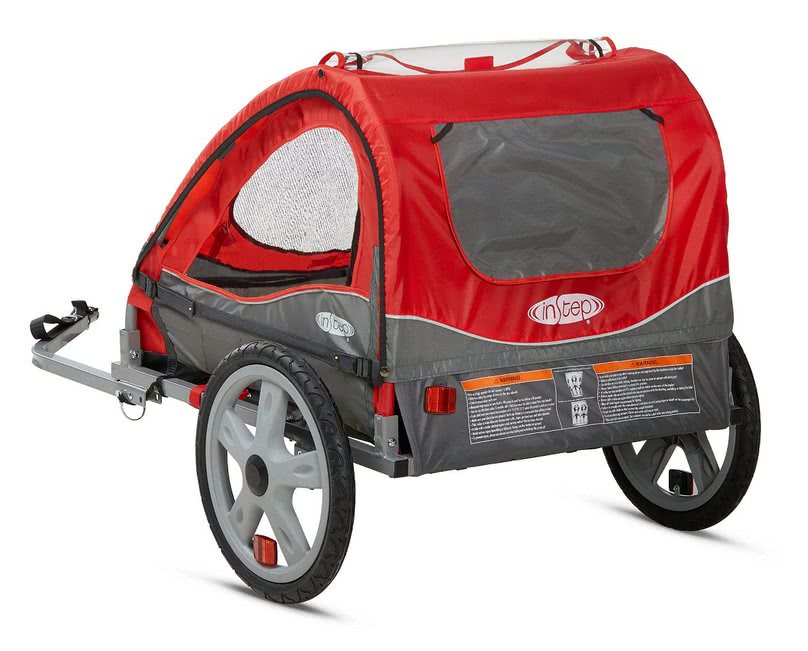 The major issue with this bicycle trailer is that it is only really suited for paved roads. This means that your mountain bike expeditions into the wilderness will have to use a different trailer for your little ones. However, for the majority of travels which are based on roads and pathways, you should be good to cycle.
InStep Rocket II Bicycle Trailer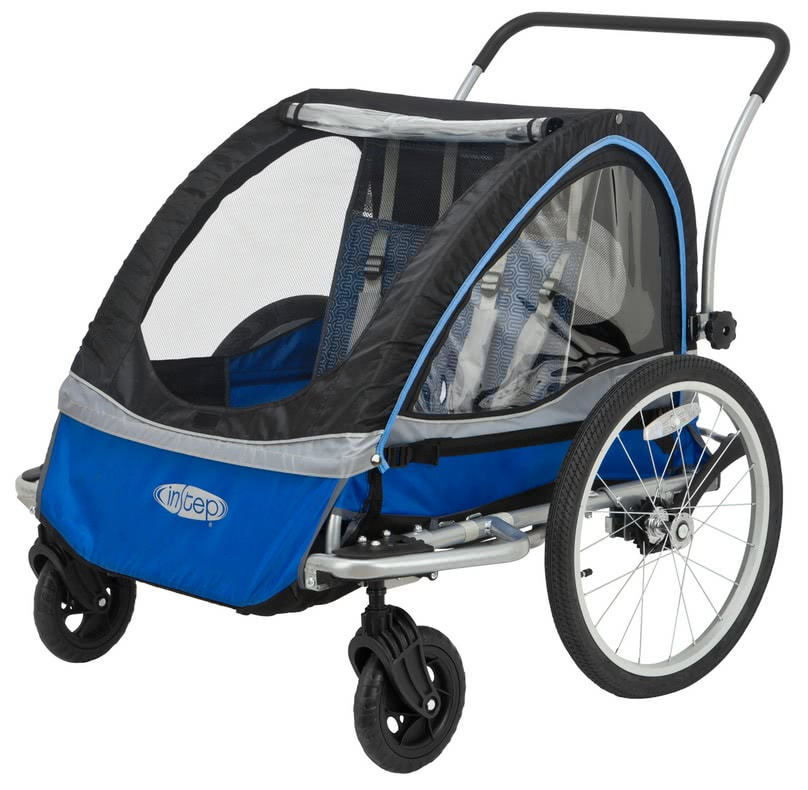 FEATURES
20" quick release rear wheels with aluminum rims
Aluminum frame
Dual front wheel (plastic) stroller kit
Included bug screen and weather shield
Universal trailer coupler
Included bug screen and weather shield
Supports 80lbs total weight
Parking brake
Assembled Dimensions: 50.8" x 34.7" x 32.8"
One of the first things we noticed about the InStep Rocket II Bicycle Trailer was how versatile it was. It is the ultimate in convenience when it comes to transporting your child around town. In one form of its usage, it is a towable bicycle trailer and within a few simple, effortless steps it becomes a child's push buggy.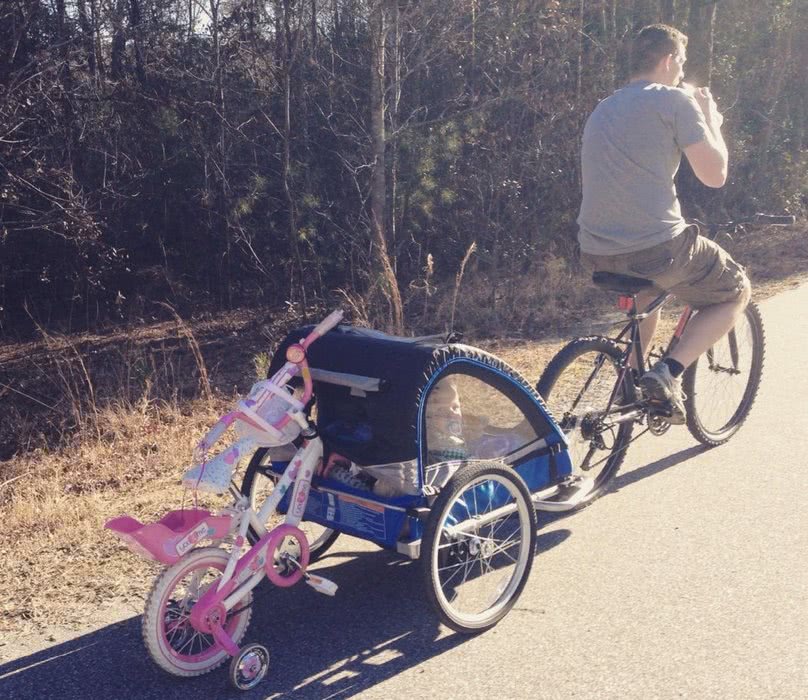 The ability to ride into town with a child means you can be sure of the maximum safety for you and your little one. Then, once you arrive in town, you can simply lock up the bicycle, detach the bicycle trailer and continue to use it as a convenient stroller for the baby.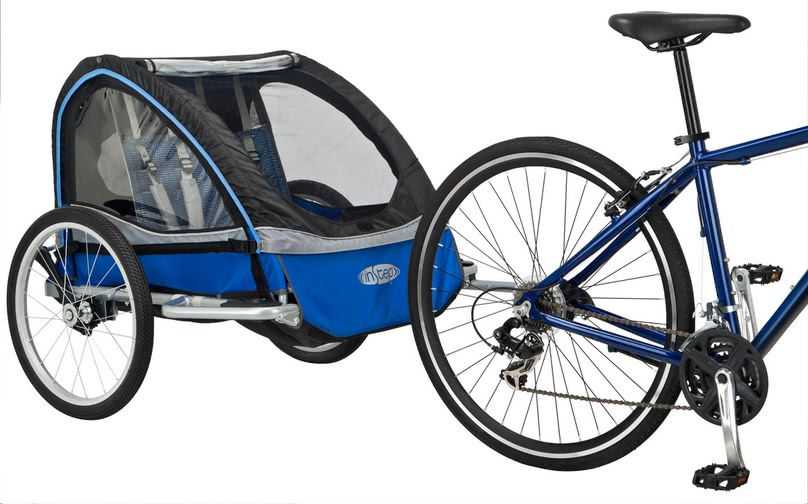 The frame can be folded up very easily and releasing the wheels from your bicycle is done in seconds. And considering we were regularly releasing the trailer from the bicycle and putting it back on again (all the while with a baby on board) it was convenient to know that this could be performed effortlessly and quickly.
The coupler on the bicycle trailer is adaptable to virtually any bicycle, so it gives the user a universal reach. The smaller front wheels swivel allowing for the trailer to act as a baby stroller. We were also impressed with the padded handlebar when pushing baby. As any regular baby stroller user will tell you, a comfortable handlebar is essential to prevent you from feeling every bump and lump in the ground.
It offers exelent storage space in the back which held a tent.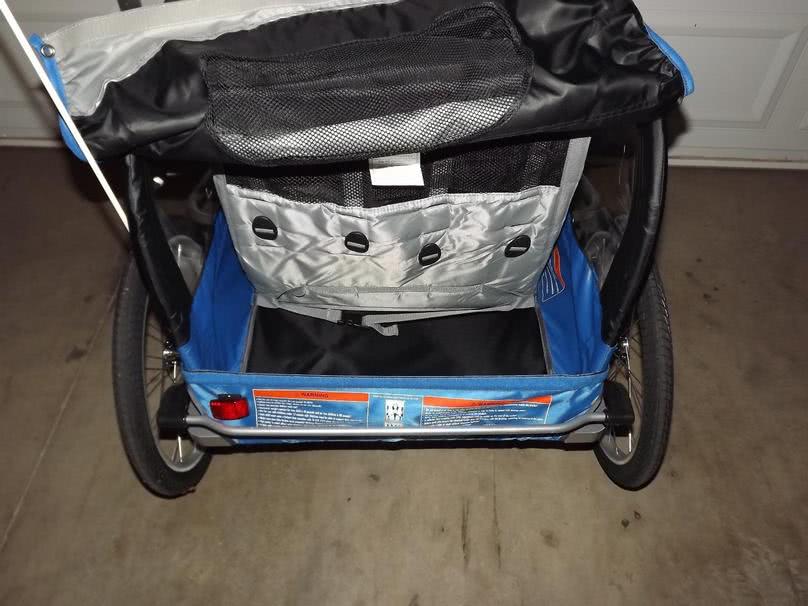 The Rocket II Bicycle Trailer has plenty of room for baby and an excellent protective bug screen and wind-cheating cover.
The fact that the attachments fits any bicycle is a huge plus point and there is no need to check to see if your cycle is compliant.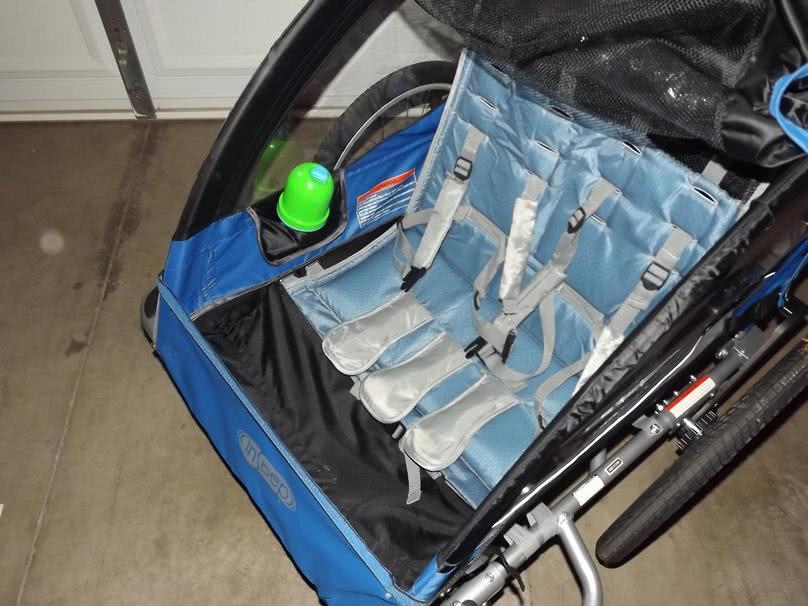 The two 20″ rear tires on the trailer are air tires allowing for better performance than, say, a rubber molded tire.
The overall appearance does seem to have a kind of "ugly" look to it.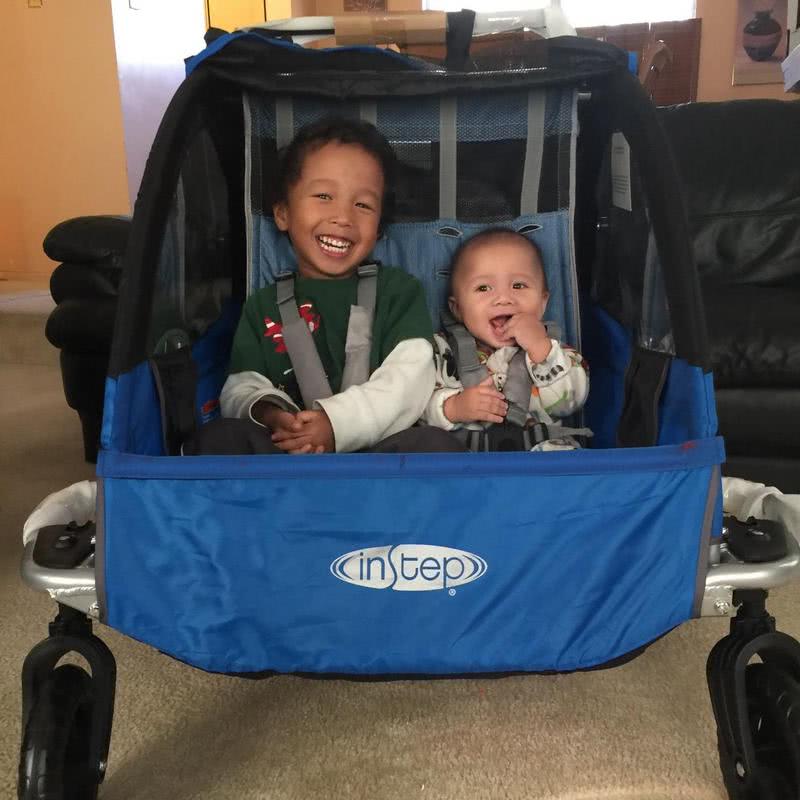 The handlebar is comfortable but it is rather big and at times we felt as though we were pushing a shopping trolley loaded to the brim with groceries rather than a convenient stroller.
Folding the bicycle trailer up to put away into the boot of your car can be cumbersome at best, frustrating at worse. However, you would only need to do this if you were driving away on vacation or similar.
InSTEP Sierra Double Bicycle Trailer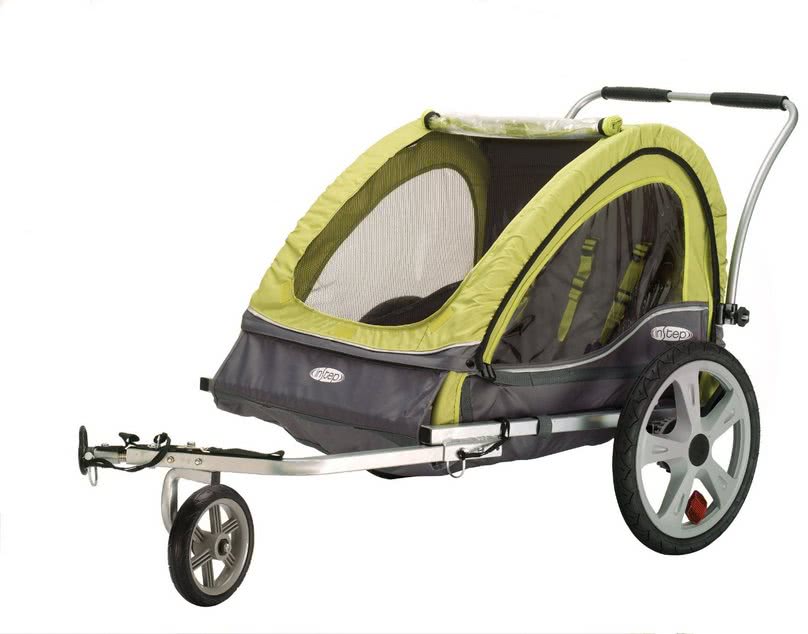 FEATURES
16″ rear and 12″ front pneumatic tires with molded rims
Steell frame
Quick release front and rear wheel
2-in-1 canopy
3-point Harness
Included bug screen and weather shield
Universal trailer coupler
Stroller kit
Holds up to two children
Maximum weight limit is 100 pounds total or 50 per child
Parking brake
If you are looking for a great trailer under $100, you can do much better than the InSTEP Sierra Double Bicycle Trailer. Let's take a closer look.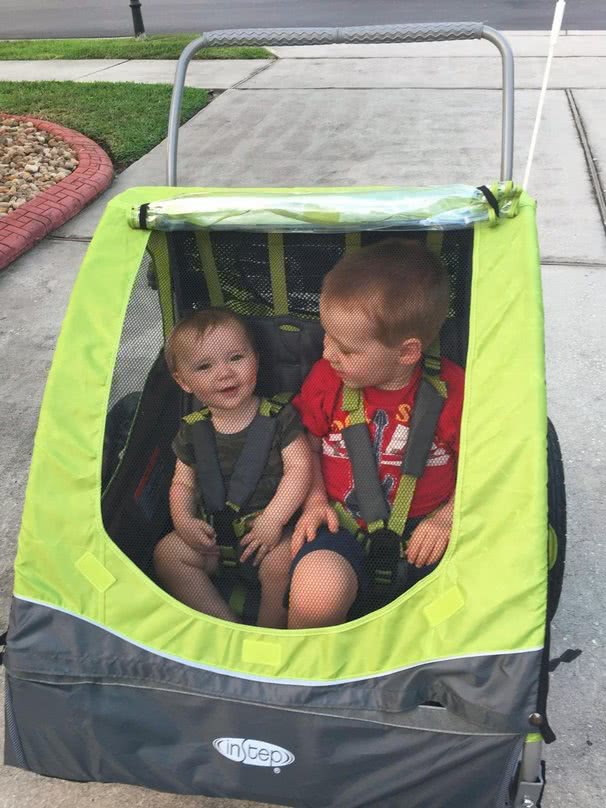 One of the best things about this particular unit is that it is much more than just a bicycle trailer. The InSTEP Sierra can also be used as a stroller for those days when you would rather walk than hit the bike trail. The total package comes with a stroller kit, and it also has the benefit of being able to attach to just about any model of bike that you care to name.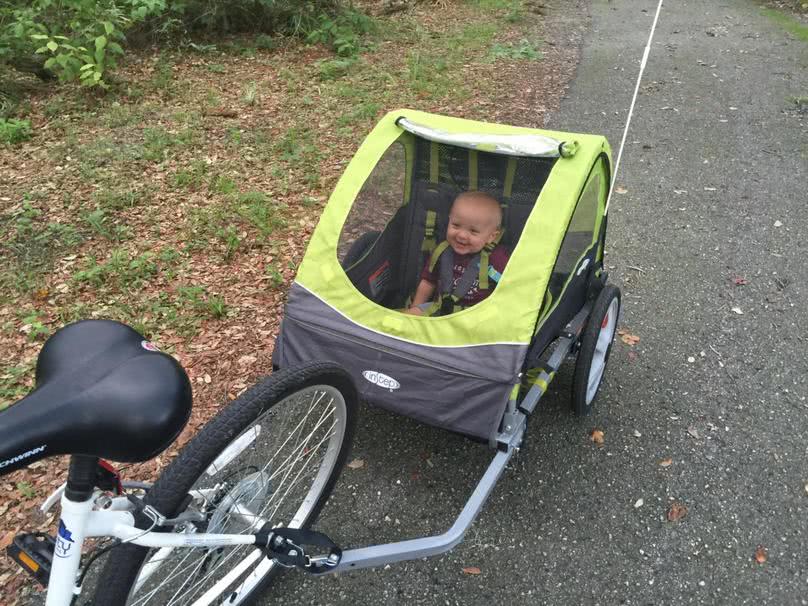 As a parent, your biggest concern is probably the safety of the product that your children will be riding in, and the good news is that the InSTEP Sierra has all the bases covered in that regard. This is a sturdy, durable unit that comes with a number of excellent safety features. The 16-inch real wheels can handle a variety of different terrains while still maintaining a high level of stability inside the trailer. Even if there is a little bit of rockiness in the ride, you can rest assured that your children will be kept firmly in place by the deluxe harness.
The little ones will also have a very comfortable ride, thanks in large part to the comfortable padded seats found inside the trailer.
Even more protection is added by a 2-in-1 canopy that keeps out the elements and provides shelter from any debris that may kick up while you ride. The unit also comes with a parking brake that adds an even higher level of safety for those times when you want to take a break.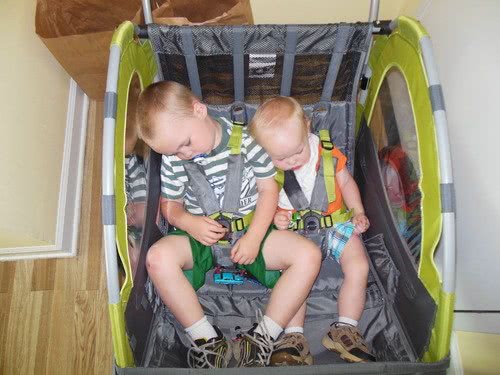 Storage is always an issue when dealing with a larger bicycle trailer, but the InSTEP Sierra also wins in this department. The wheels can quickly and easily be removed, and the whole frame folds down for easy storage. This is a unit that is incredibly easy to use, from attaching to dismantling, and all points in between.
There really are no real negatives that we can see with the InSTEP Sierra Double Bicycle Trailer, and it also helps that you can get it for less than $100. This is perhaps the best trailer available in this price range, thanks in large part to the efforts that the company has made to ensure that this is a safe mode of transportation for your little ones.
InSTEP Sync Single Bicycle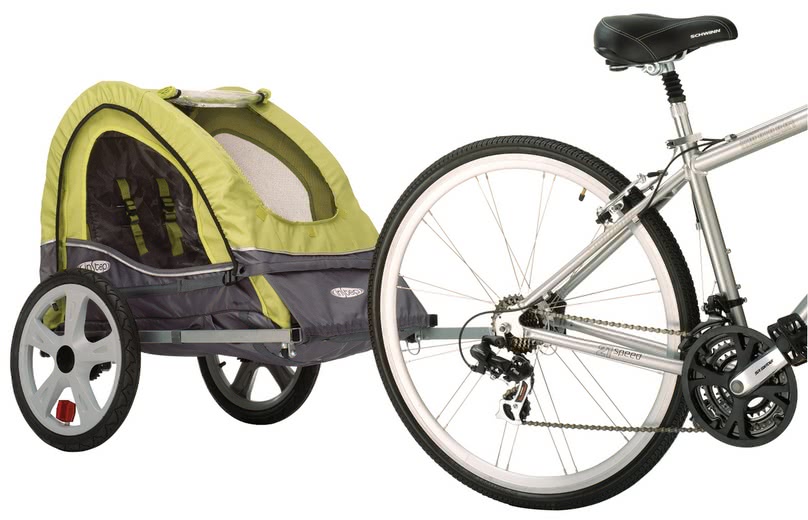 FEATURES
16" pneumatic tires with molded rims
Folding frame design with quick release wheel
2-in-1 canopy includes a bug screen and weather shield
No stroller kit (sold separately)
5 point harness
Steel frame
50 pounds maximum weight
For 1 child only
InSTEP Sync Single Bicycle Trailer is one-of-its-kind quality flagship product from the manufacturer. The vehicle has been specially designed for mums and little kids to enjoy cycle ride without any worry. The gray and green canopy Bottom of Form is attached to the cycle to protect your kid from rain and storm.
The long 16-inch pneumatic tires are always ready to make your journey smooth and hassle-free while molded rims offering an astonishing look on the cycle. You can also attach this InSTEP Sync Bicycle Trailer to any bikes using its coupler hitch. Inside the cycle, the harness is keeping your baby protected and safe while you pedal along without any tension. Also, when not in use, you can simply detach the tires, and then fold the cycle at a convenient place.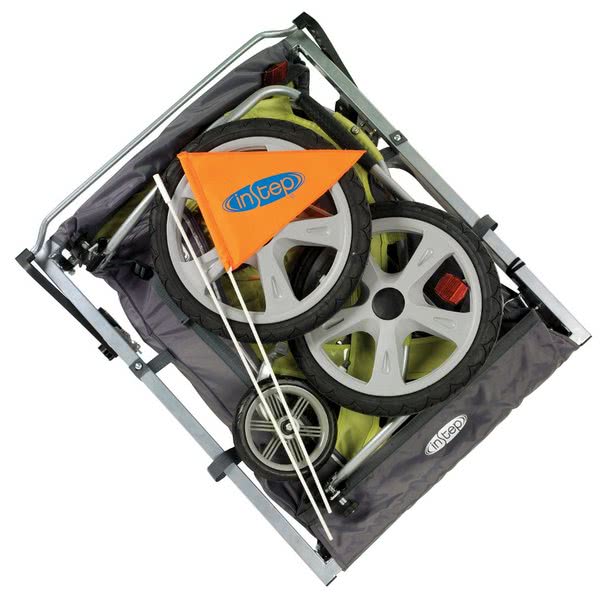 Advantages
Durability: Considering the simple mechanism of the vehicle, it has longer durability than other cart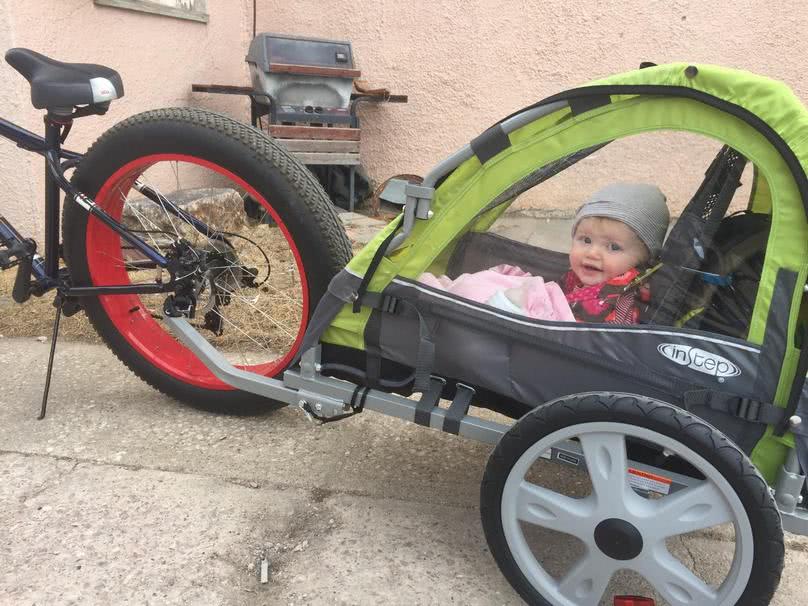 Easy Storage: The Bicycle can be easily unfolded in parts which take lesser space for storage.
Coupler facility: The Bicycle comes with a special coupler facility which helps it getting attached to any bike if needed.
Full Protection and Safety: The canopy comes with weather shield which helps the child stay safe inside.
Full value for money: Attractive design, manifold utilities and durability make this Bicycle the best one to buy at this price range giving customers full value for money.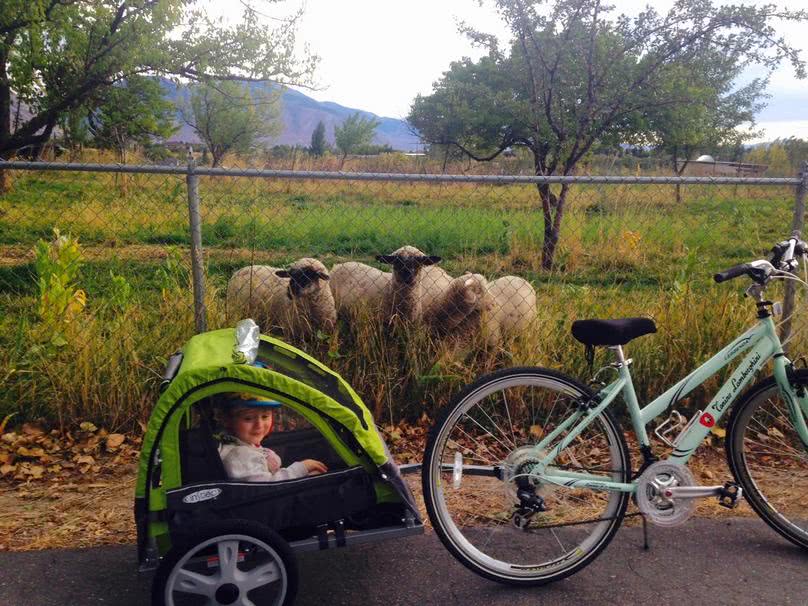 Disadvantages
Weight bearing capacity: The vehicle can bear the weight of one child only up to 50 pounds.
Complexity: It is a little more complicated than other cycles.
Color availability: Available in limited colors.
Thus, from the above one can say that InSTEP Sync Bicycle Trailer is good option for parents who wish to take their child on a cycle ride at frequent intervals. Barring few disadvantages as discussed above, the vehicle comes with a lot of other advantages too. Hence, purchasing the Bicycle can be helpful for the parents who wish to spend some considerable time with their little one.
Every infant loves to ride Bicycle. This is a step further. The vehicle is not just fully safe from all sides but is also capable of providing hassle free ride to the kid. Nevertheless, the beauty and spectacular look and finishing of the vehicle can straightaway win the heart of anyone.