A true bike enthusiast rides his bike no matter the weather, time of day, or conditions. But what happens when this bike enthusiast has a family? What happens when the child is too small to ride his own bike?
Enter, the Schwinn Bike Trailers. This wonderful invention allows you to enjoy your biking excursion while bringing the kids along and making it a true family day.
Simply attach this device to your bike, buckle in the kids (or even the dog), and away you ride. Quick, easy, and most importantly, safe!
Schwinn Echo Double Bike Trailer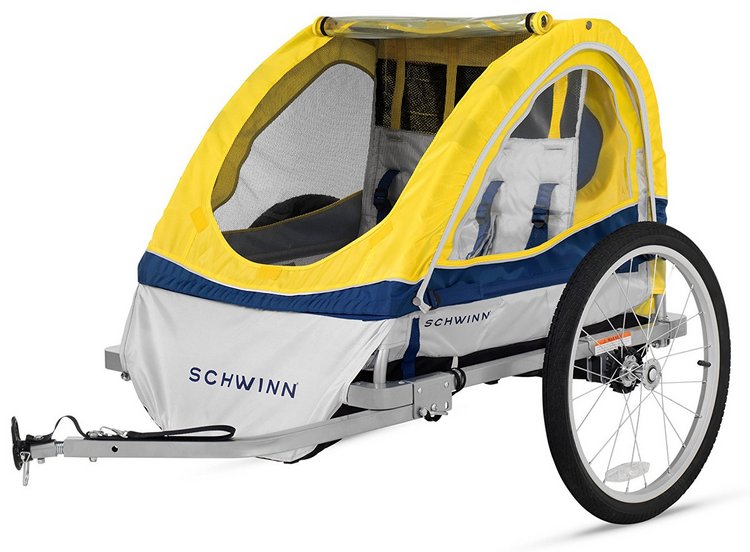 As for safety, this bike trailer is loaded with safety features. First, the seats include helmet mesh and shoulder pads to help protect little bodies when you go over those bumpy roads.
Also, the wheels are 20″ alloy spoked wheels with air tires. This allows for a smoother ride and an overall safer ride. And finally, the steel frame makes the trailer durable and easy to store.
It seems like an overall amazing product, but as with most products, there are pros and cons. Let's take a look at the pros first. To begin, Schwinn is a top name in bike products, providing trusted quality and service for many years.
Besides, they offer affordable prices for their products. That is why it is no wonder that this product retails for under $170.00.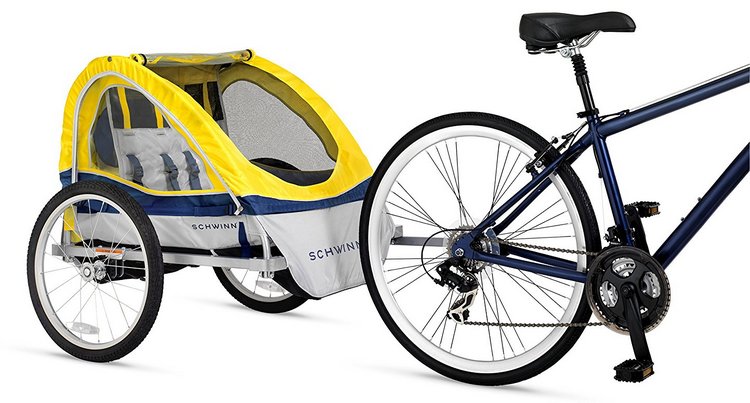 Another significant benefit is the trailer is very easy to assemble and fits on most bikes, although it is easiest to fit on a Schwinn (of course!).
Aside from being easy to assemble, it is easy to store, making it a great fit in your garage or storage closet for the offseason. This steel frame also makes the trailer very lightweight, making it a bit easier to push your bike uphill than if you were to use a heavier weighted trailer.
Finally, its overall design is meant to capture the importance of safety. The mesh makes the trailer comfortable while keeping it cool in the summer and warmer in the fall, all the while keeping the sun's rays and bugs away from your little ones.
The helmet mesh and the padded shoulder belts help keep the kids comfortable while protecting them from injury due to a bumpy ride.
In contrast, the Schwinn's tires easily deflate due to their thin base. This simply means you may need to carry a pump with you for longer journeys. Another negative, again related to the tires, is it is best for speeds under ten miles per hour.
Therefore, if you are to be racing with your trailer, it is best to find a trailer designed specifically for faster speeds. Finally, one last potential issue with the trailer is that it may be difficult to install on bikes that are not Schwinn bikes.
While it can be installed on almost any bike, some may require a little more attention and adjustments to make it work.
Overall, for the price, this trailer seems to be an exceptional buy. Like any product, it is not perfect, but it absolutely takes family biking and comfort to a new level!
Schwinn Trailblazer Double Bicycle Trailer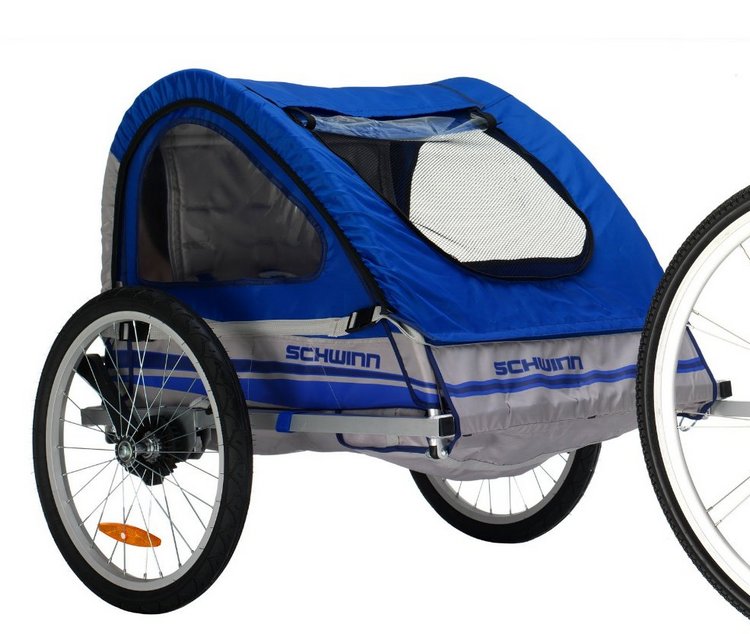 Schwinn Trailblazer double bicycle trailer isn't just a reliable biking trailer, but it's also the most sought-after bike trailer on sale today. With it, your adventurous trips get even better. It guarantees that your experience will be a memorable one.
This model has a lightweight aluminum frame that offers stability. In fact, it can accommodate two kids or a load of up to 100 pounds. Also, if you wish to attach the trailer to an adult bike, you can as it can easily connect with other bike models.
The most interesting thing about Schwinn Trailblazer double bicycle trailer is that it can be easily converted into a stroller when you reach your destination. It comes with zipper flaps that allow the breeze to enter in the compartment during hot weather or close it up during severe climates.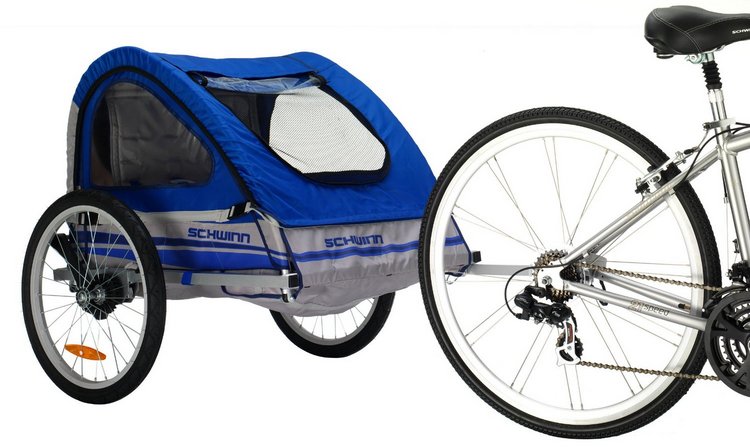 The unit's wheels can be detached easily, enabling you to store the folded up trailer in a few seconds. Plus, it has side pockets that can hold your kids' snacks, drinks, and other stuff while you're on the road.
For easy maneuvering, the rubberized handle bar will help you set the trailer at a different level.
What are the pros of choosing Schwinn Trailblazer double bicycle trailer?
One of the advantages of using it is that the trailer is easy to assemble. It doesn't require tools as most of its parts will pop up right away. You can set it up in less than 15 minutes.
It also offers some great features allowing this trailer to be unique. It has a back window that you can zip up or open up. This back window can be attached using little bands that can hold well during rides.
The big windows on both sides enable your kids to see what's outside. It's also equipped with a seatbelt for single or double passengers.
And as previously mentioned, Schwinn Trailblazer double bicycle trailer can be used as a stroller or a bike trailer. Transitioning it from stroller to bike trailer is super easy. You just have to take off the front wheel and attach it to the back wheel of any bike.
Since switching it between stroller and bike is easy, it makes it ideal when you go to the zoo or walking on the beach.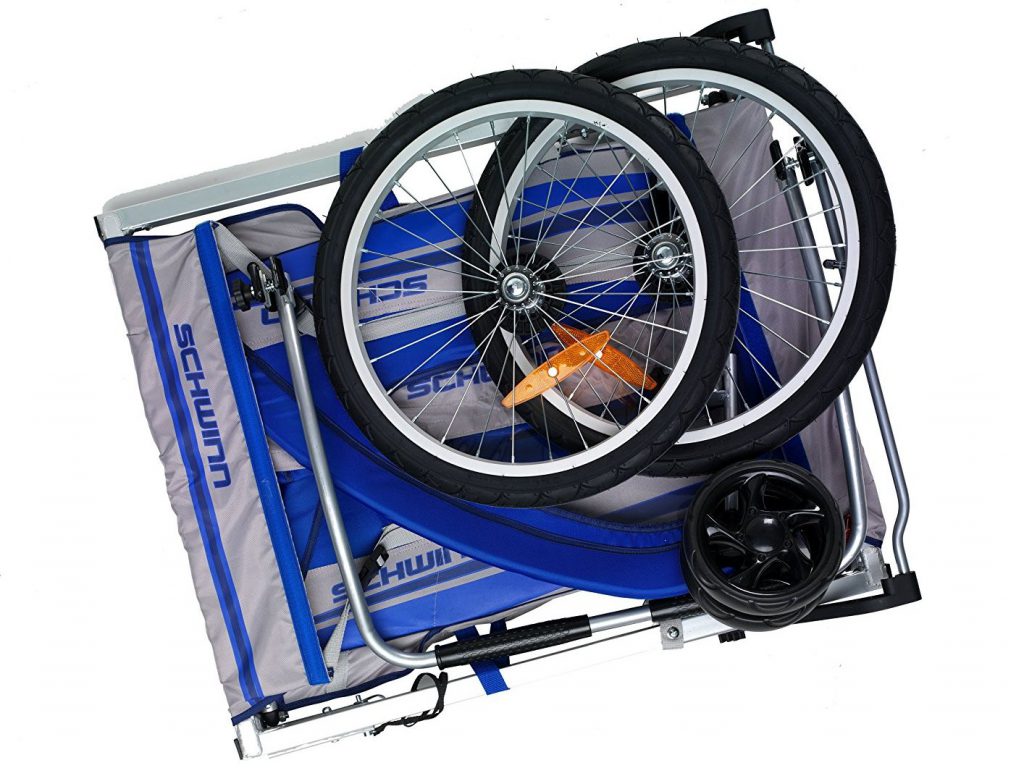 Are there cons in choosing this model?
Although this trailer can easily accommodate two kids, the seating isn't excessively large enough to offer your little ones a comfortable amount of space apart during a ride.
The front wheel of the unit wiggles a lot. It also makes noise, which can become rather annoying.
It also has safety straps that enhance physical protection, and an additional sunshade that makes for a more relaxed ride for your kids on a hot day.
Despite its lack of some features, Schwinn Trailblazer double bicycle trailer is a perfect trailer for your family, especially if you want to be active. You'll surely love the fact that it can hold two children, and you can easily switch it between double stroller and double bike trailer.
Schwinn Trailblazer Single Bike Trailer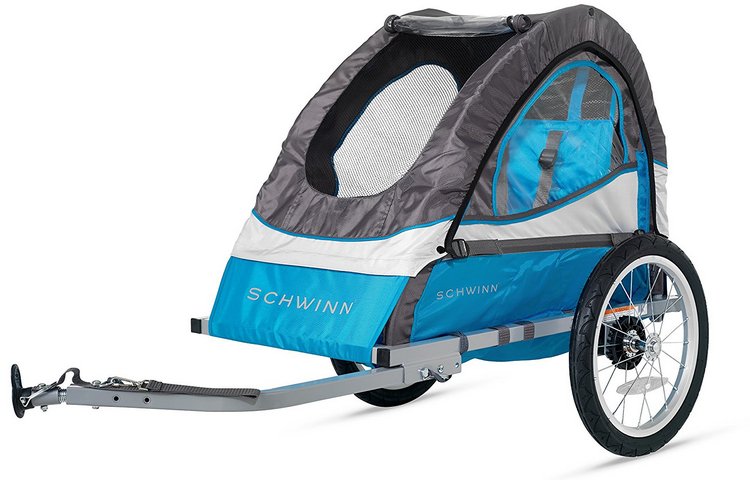 A Schwinn Trailblazer Single Bike Trailer is the perfect choice for you if you are looking for a reliable single biking trailer to carry your kid along on a fantastic bike trip. You don't have to worry about hiring a babysitter or leaving your child alone, you can bring your kid along with you during your exercises, while you jog, or when you are biking around your neighborhood.
The Schwinn Trailblazer Single Bike Trailer is big enough to accommodate a kid and is designed to withstand a weight of 50lbs; you will have the freedom to accommodate additional items in the vast space, the product is offering you.
The Trailblazer is highly durable and can be used for a long time, which guarantees you quality services for the money spent on the product. The assembling of the Schwinn Trailblazer is simple and can be completed in a matter of a few minutes.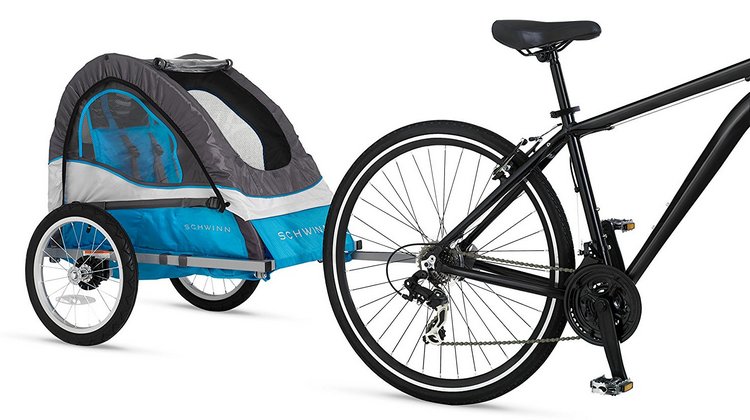 The Trailblazer consists of many great features that include a perfect set of wheels, which will ensure comfortable mobility; 16inch alloy wheels that ensure easy mobility and provide smooth and precise motion on different surfaces. The weather screen for ventilation is not difficult to open and close.
The coupler arrangement in the Trailblazer fits in any bicycle. The Schwinn Trailblazer Single Bike Trailer also consists of a folding frame and quick release wheels, which facilitate easy storage.
For better performance and style, pneumatic tires with molded rims are implemented within the product. The 2-in-1 canopy inside the product includes a bug screen and weather shield arrangements.
The Schwinn Trailblazer Single Bike Trailer is the best product for you if you are a casual rider or avid cycler, you can carry your kids along with you. Pros and cons of Schwinn Trailblazer Single Bike Trailer are as follows: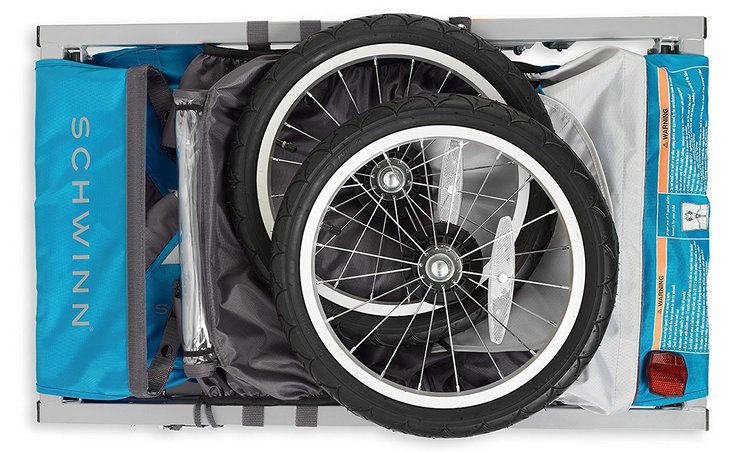 Pros
1) The Spring loaded clamp keeps the trailer upright if this bicycle wrecks or falls over.
2) It is simple to assemble and disassemble the product; the trailer can also be folded and fitted easily.
3) The Trailblazer Single Bike Trailer provides a Spacious and Comfortable arrangement, which allows your kid to move around and have fun.
Cons
1) It doesn't work with all bikes, if your bike frame doesn't contain a slot cut out in the back of the bike frame, the coupling piece can't be mounted.
2) Having the trailer stick behind your bike is dangerous, it's better to have the trailer on one of the sides.