This is an excellent product to introduce your child to cycling. The WeeRide Co-Pilot Bike Trailer is a trailer that can attach itself to an adult bike, enabling your child to simply ride along.
The trailer can attach itself to almost any adult size bike, as long as about three inches of metal are exposed between the seat and the frame.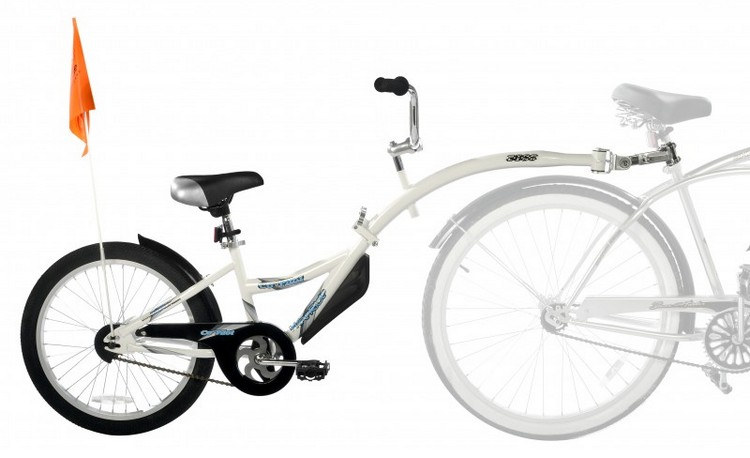 Setting up the trailer is very easy – this can be done within half of an hour. With the help of two quick release bolts, the trailer can be attached or removed from a bike within minutes.
As compared to other similar trailers, a significant upside for this trailer is its price. At about $80, it is nearly half the price of the other trailers. Even at this price, though, it lacks no features which make it a deal breaker.
At the back of the trailer, you will find a safety flag. Fitted behind the seat, it gets the attention of the other vehicles on the road ensuring that your child doesn't get hit by a vehicle.
Something you do need to take care of is to avoid as many bumps or sudden movements as much as possible. The co-pilot cannot see the road directly, and he/she depends on you to lead him/her.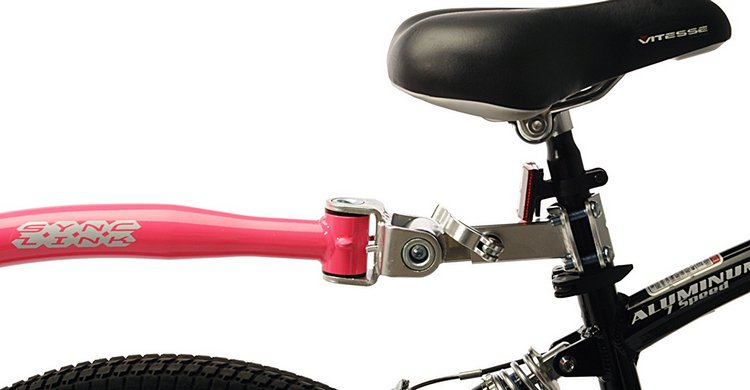 If the co-pilot is too relaxed and you should make a sudden movement, there is a possibility that the co-pilot will fall off the trailer and be injured. A good practice when using this trailer is to warn your child about any upcoming turns, avoid quick acceleration or harsh braking.
A thing to note is that this is not the fault of this particular trailer, but all trailers do have this issue.
Another necessary precaution is to tighten all the screws and bolts as they tend to loosen over a period of time. Having a screw or a bolt fall out during a ride would not be ideal, especially if it binds the trailer to your bike.
The child needs to be about 41 inches tall to reach the pedals so most children above 4 years can ride this bike with ease. Due to its adjustable seat, your child won't outgrow this trailer anytime soon.
As your child will observe you riding in front of him, he will pick up many of the safe practices of riding a bicycle.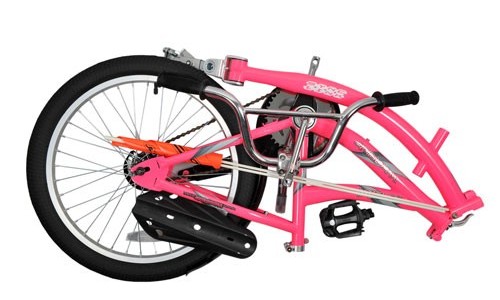 Using this trailer causes:
no discomfort to your child
your child can either pedal with you, giving you a small boost or he can just cruise along with you without pedaling.
The trailer is foldable, meaning it can be folded into a compact package, making it easier to store when not in use.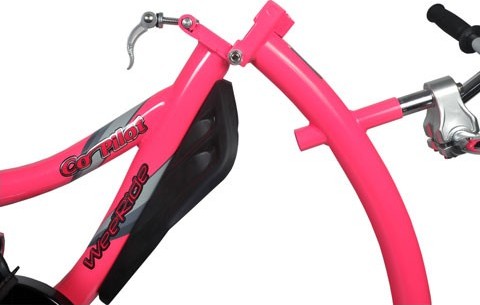 What We Like
Quick release bolts to attach or detach the trailer – No special skills is needed in order to assemble the bicycle. As long as you can read the manual and follow the instructions, you'll be able to assemble it quickly.
Cheaper than other similar products – If you need an affordable and safe two wheeler for your kids, WeeRide Co-Pilot Bike Trailer is the best option for you.
Impressive concept – the most impressive thing about the bicycle is that kids usually love it. Of course, the main concept is to produce something that the kids will love, as well as help them learn two-wheeling in a safe way.
Helps to build confidence – the bicycle are made to create confidence in the kids.
Adjustable seat
Co-pilot can cruise along without pedalling
Children between 4 and 9 years old can ride
What We Don't Like
As expected, WeeRide Co-Pilot Bike Trailer also has some cons.
Care needed when making turns
Need to avoid sudden movements
Need to tighten screws and bolts regularly
Difficult to pull up hills if the kids can't help – this is not a serious thing to worry about because the children will learn very fast.
Parts are not readily available – if any of the parts gets damaged, you may find it difficult to get it back.
Low quality with poor packaging – according to some users, the product is not properly packed. More so, it looks like the quality is not properly checked with the company.
These are the major things you may want to know about the product. Overall, it can be helpful for the kids.